Approximate reading time:

9

minutes
The Things to Look for in E-Juice for Electronic Cigarettes
Quitting cigarettes is a tough step, but how will you curb the cravings, is vaping the right way to go?
With record numbers of smokers finally quitting cigarettes and moving on to vaping, major health organisations are advocating e-cigarettes as an effective and safe substitute to traditional tobacco, but on top of worrying about quitting, the e-liquid world can seem daunting and vast to a beginner and that's why today, we want to tell you 5 things to look for in an e-liquid for electronic cigarettes.
The most popular approach for beginners is simply to go for a flavour that they like, but the depth of e-liquid on the market is designed to go way beyond simply taste.
E-liquid is the soul of your vaporiser, choosing the wrong type of liquid because you don't know much about it could lead to terrible experiences and poor performance of the atomiser.
So, to avoid you the arduous task of researching everything you need to know, we have gathered the 5 most important things you should consider when buying your e-liquid.
What is an E-Liquid?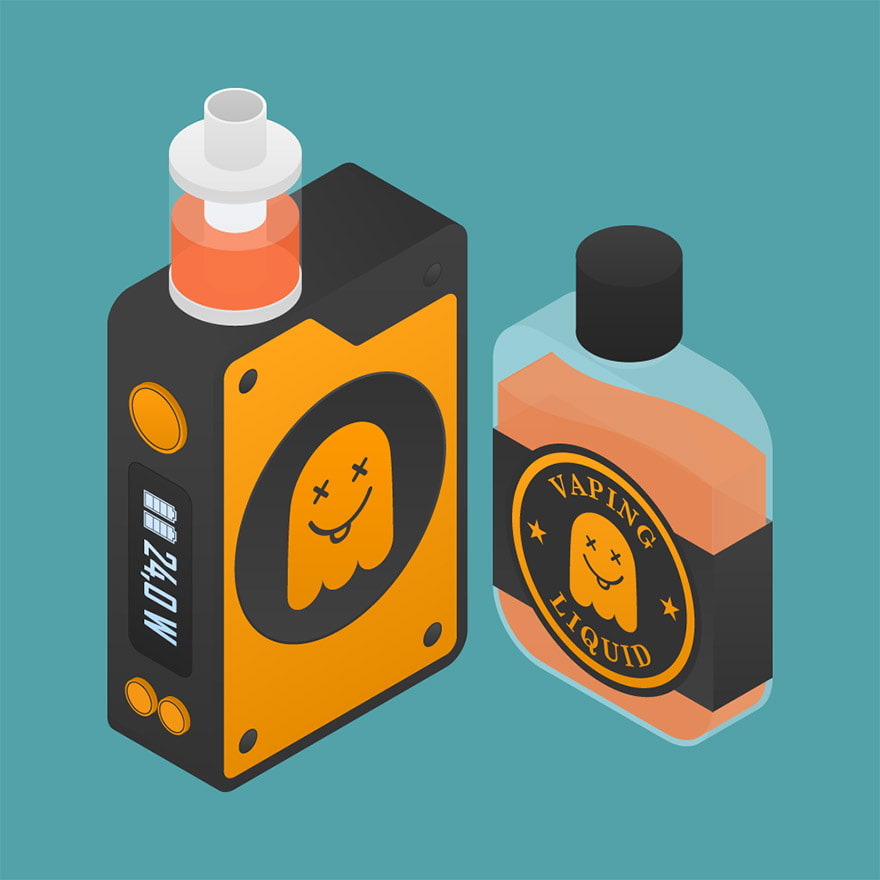 But first things first, we would like to clarify what an e-liquid (aka e-juice or vape juice) is and what it isn't.
An e-liquid is a thick fluid usually made from either vegetable glycerine (VG), propylene glycol (PG) or a mix of the two liquids, with added flavour(s). It goes inside the atomiser chamber (or tank) of your e-cigarette and is in constant contact with the Japanese cotton of the coil.
Most of the PG based liquids are old fashioned, or used on older atomisers, because the liquids are less viscous. High VG liquids are more viscous, and are used in more advance e-cigarettes and mods.
Both PG & VG are odourless and don't have much flavour by themselves, they are actually added to foods and medicine to keep them moist.
What makes an e-liquid taste like something are food-grade additives. They are chemically safe for human consumption.
You can find liquids with or without nicotine, it all depends on whether you are having a hard time quitting cigarettes or you just enjoy smoking something that doesn't taste like a cigarette.
Some people think nicotine is highly damaging, similar to caffeine, as a raw drug is safer than you think.
Byproducts of cigarette smoke cause extensive long-term damage to multiple systems in the body, not the nicotine, and that's why other products like patches and gum exist to stop you from smoking using nicotine.
Generally speaking, taking doses of nicotine using vaping is one of the safest, tastiest and satiating ways to curb your cravings and you won't be poisoned either, unless, of course, you consume incredibly high doses of nicotine.
You can choose how much nicotine you want your e-liquid to contain; you can have doses ranging anywhere from 0mg (no nicotine) up to 24mg – if you are a heavy smoker trying to quit, we recommend buying liquids with a stronger dose first, and gradually lowering the strength.
But beware! Liquids with a higher dosage of nicotine have a stronger throat hit and taste than liquids with smaller doses.
Once you start vaping, the mechanism of controlling the amount of nicotine you are consuming becomes much easier, allowing you to step down the concentration at your own pace in stages and thus reducing your dependability on nicotine.
To summarise: 70-90% of the e-liquid you buy is made up of either vegetable glycerine or propylene glycol, or a mixture of both. The 10-30% that's left is food grade flavourings and nicotine.
Now that we have this clear, let's talk about the 5 things you should be looking for in an e-juice:-
PG/VG Ratio
Everything you need to know about the e-liquid you are about to buy can be found on the label, never buy e-juices without a proper label or the ones that don't show you what they are made of.
E-liquids out there are mostly made of PG and VG, but every variation of VG/PG ratio is available, as well as some with a mixture of distilled/ionised water or ethanol.
Some still believe these ingredients are dangerous because a few can be derived from petroleum, but honestly, check your medicines, lotions, baby wipes and shampoo bottles, you will find PG and VG everywhere, they are safe for human consumption and use.
Now, a small minority of people may be allergic to PG, if you are one of those, don't worry, you can just choose high VG liquids and you will be fine.
The PG or VG ratio usually responds to your vape device; older models work better with PG, but the newest ones, at least from 2013 to present, work perfectly with both, or just VG per se.
What are the big differences? Well, here you have them:
PG liquids usually give you a better throat hit, meaning, it feels closer to a cigarette for your throat.
PG liquids carry flavour better, but dry your mouth out more.
PG liquid is less viscous than VG liquid, which means less thick vapour clouds.
However, VG liquids produce bigger vapour clouds, which is one of the main attractions of e-cigarettes these days.
VG liquids also leave more residues than PG liquids (because they are thicker).
Usually, VG is sweeter than PG, not that you can notice, but it's perfect to enhance sweet flavours.
Technically speaking, if you want a stronger throat hit, you should get liquids with higher PG concentration, but if you prefer vapour clouds, then go for higher ratios of VG liquids.
Nicotine Content
Here is the part most people care about, how much nicotine does my e-liquid have? The real answer, in fact, depends on what you want.
E-juices come in a wide variety of nicotine strengths, you can see the strength in either mg or a percentage (%) on the label of the bottle.
Usually, people who buy e-juices with nicotine are trying to quit smoking, you can't accurately control how much nicotine a cigarette has, and that's one of the many advantages e-cigarettes have.
If you are starting with e-cigarettes and you are a heavy smoker, we always recommend to start with a high nicotine level. You don't have to use the maximum (24ml) at once, but try something between 12ml to 18ml, and if you need more, then you can choose 24ml.
If you are not a strong smoker, you can choose from 6ml to 0ml. Once you feel comfortable with a specific level, you can then start reducing the nicotine doses; let's say you started on 18mg, in a few months you can lower it to 12mg and so forth.
As a smoker trying to give up for good, too little nicotine content will make you want to vape more, and your liquids will vanish quite fast because your body is craving for more nicotine, so to save you some money, be honest with yourself and get the nicotine level that suits your smokers character.
Which Vape Flavour is the Best?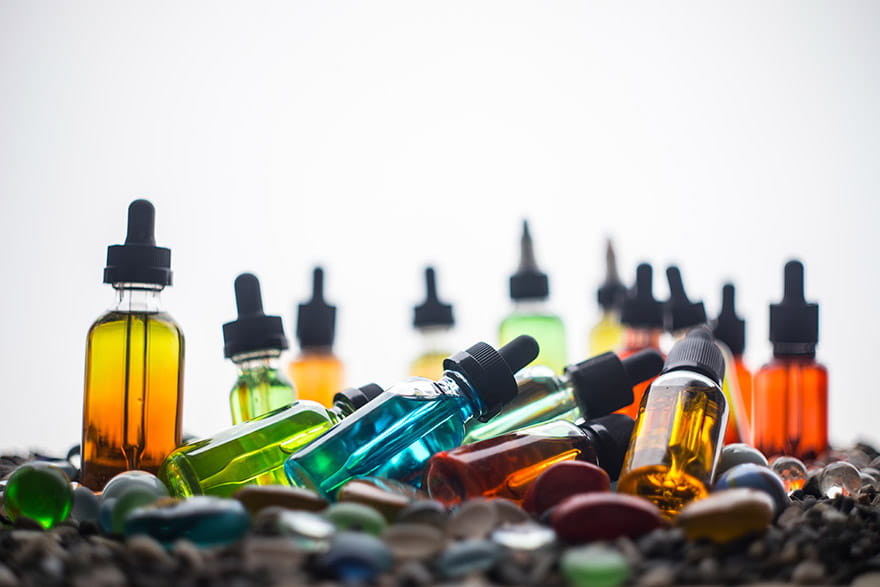 Again, it all depends on your choices and taste. The varieties of flavours available stretch as far as the imagination can go, no matter what flavours you enjoy there will be something to suit your needs.
Heavy smokers usually think e-liquids are either all sweet or minty, but you can actually find crazy mixed flavours like fruits with energy drinks, or cookies and ice cream.
You can also find pretty simple liquids like chocolate, vanilla, banana, apple, and more.
Now, if you want the closest experience to smoking traditional cigarettes and hand-rolled tobacco, you can enjoy tobacco flavours that mimic the taste of many popular brands of cigarettes and tobacco, for that nostalgic taste.
Just beware of the nicotine level! High nicotine levels usually make e-juice and their flavours taste stronger.
So our recommendation is: if you are going to purchase e-liquid, try getting it with a lower dose of nicotine so you can enjoy it properly.
Now, if you are feeling a little bit more adventurous, we have some of the most delicious e-liquid made with the highest quality ingredients, available in any nicotine concentration and PG/VG ratio you need!
You can choose anything from coconut, menthol, cookies, strawberries & cream, coffee, and anything you can think of!
Minty flavours feel like a splash of cool wind in your throat, some people like to mix mint e-liquid with other basic liquids like fruity ones to create their own mix.
You can totally do this, just try to get both liquids from the same brand, otherwise the taste can vary too much.
Also, keep in mind that the stronger the flavour you choose, the more often you will have to change your cotton and clean your atomiser.
Strong flavours take longer to vanish completely from the cotton so when you put a different liquid in, it could taste like a mix for a while.
Are Premium Liquids the Same as Regular Liquids?
No, they are not. When we see something labelled as "premium" two things come to our minds:
It's more expensive
It must be of a better quality
The main difference between premium and regular e-liquids are the ingredients; there's nothing wrong with regular e-juices, but the premium ones have top rated ingredients and are steeped in advance to enhance the flavours.
The flavours, for instance, are not easy to make. It takes many tests to get to the final flavour, so the more unique the flavour is, the higher the effort which has gone into development, usually using high quality ingredients.
Do premium liquids taste better than other? Yes… but not really. Premium liquids are harder to make and have more expensive ingredients (and presentation), but the taste is such a personal choice that nobody can actually tell you if premium is better than normal.
What they can tell you is if one flavour tastes better than a competing brand of the same flavour, but generally speaking, you should be expecting 1) more quality 2) better flavours when you choose a premium e-liquid over a normal one.
Are they worth the price? To us, we don't think so.
Our e-liquid is used in production of many premium brands and our e-liquid is already the highest quality available, due to the high-grade ingredients we use.
Why shop anywhere else when you can benefit from top quality and fantastic prices, here at Smash E-Liquid.
What Bottle Size of E-Liquid Should You Buy?
This depends on how much you vape, the style of mod, your wattage/volts/temperature, and your smoking cravings. You can find bottles from 10ml to 25L, depending on your needs.
If you have a beginner's kit, then you could try starting with 10ml bottles as they allow you to change flavour more often to find a flavour that works well for you, or if you want to sample many flavours before deciding on a key few that you actually enjoy.
However, if you are well versed in vaping, you will want to get liquids ranging from 50ml to 200ml. The better your atomiser, the more liquid it will consume; the higher the temperature you vape, the more liquid it will consume.
We do not recommend you buy larger than a 100ml bottle if you have never tried that flavour before, because it could end up being a huge disappointment which will leave you with a 100ml bottle you'll never finish.
Hence, if you are trying a new flavour, stick to 10ml to 50ml bottles.
If you are absolutely sure you love it, go for bigger ones such as 500ml or even 1 litre! As they will last you longer, and will cost you much less due to bulk buy, from us.
Conclusion
We know the e-cigarette world can be scary for beginners, there's so much to learn! But don't worry, we are here to explain everything you need to know and save you from rookie mistakes.
To summarise the 5 points:
Don't be scared to try new liquids
Be honest about how much nicotine you need
Do not buy big bottles if you are not 100% sure you already like the flavour
Choose PG liquids for a better throat hit and VG liquids for thicker vapour clouds
At the end of the day, purchasing premium or normal liquids are up to you as an individual
The best flavour is the one you like the most, not what anybody else says, so if you like the weirdest mix around, be proud of it and vape on!
Clued up now? Then why not visit our e-liquid shop to find many flavours, strengths, mixes and delicious e-juice at the lowest prices online! You won't be disappointed.
Have we missed anything out? Feel free to give more points to look for in an e-liquid for electronic cigarettes, in the comments below.