Wholesale E-Liquid & Bulk E-Liquid Flavour Concentrates
Wholesale e-liquid in bulk, at the lowest prices online. We guarantee that you won't find these prices anywhere else!
No forms or special accounts needed, simply place your order online.

Why Buy Wholesale E-Liquid & Bulk Flavours From Smash?
Smash E-Liquid have been mixing unbranded e-juice since 2012. We have a large customer base who use our bulk e-juice with their own branding. We can help you start your own brand, too.
As the leading wholesale supplier of e-juice flavourings, liquid nicotine, propylene glycol, vegetable glycerine, enhancers and other manufacturing supplies for DIY e-liquid, Smash E-Liquid offer the best possible quality products at the most affordable prices online. Whether you own a vape shop or a major international vape juice brand, we understand that the ultimate success of your vape business depends on the individual ingredients' quality and uniformity.
Partner with Smash E-Liquid to ensure your customers enjoy a consistent and superior vaping experience. You cannot afford to use sub-par ingredients in the manufacturing process of your e-juice, the e-juice market is extremely competitive and you must stand out.
There are many other reasons why you should choose us for your products and refills:
Smash E-Liquid are a trusted brand you can count on.
We are highly respected and recognised worldwide.
Global provider of e liquid wholesale & retail DIY products.
All our vape ingredients are UK & European sourced for quality assurance.
We are the cheapest e-liquid supplier online, with quality in mind.
Most competitive supplier, hands-down.
We have shipped thousands of packages worldwide.
We offer free shipping on most orders.
Our aim is to ship your order within 48 hours.
We use trusted couriers that offer full tracking for your parcel(s).
We provide 24/7 customer support for any inquires.
Our e-liquid labels are CHIP/CLP compliant.
Full product liability insurance included.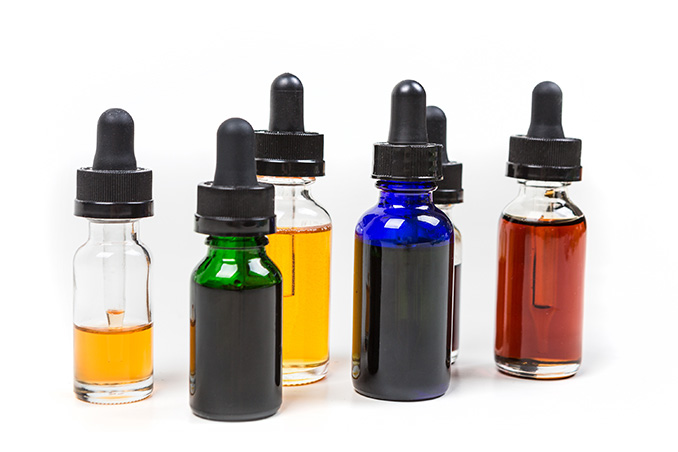 How Do Smash Supply E-Liquid & Flavours?
Smash E-Liquid supply bespoke e-juice with your full requirements. Our e-liquids are supplied in any PG/VG mix and nicotine strength. Best of all, the e-liquids are mixed fresh as per order.
The wholesale vape e-liquid, unflavoured bases, nicotine concentrates and flavours are supplied in plastic premium-grade PET & HDPE bottles. For larger sizes, we use HDPE jerry cans. These bottles eliminate the risk of contamination and damage, during the shipping process.
If you require empty bottles in any sizes and types, these can be purchased on the bottles page.

Our Infograph above shows the differences between PG (Propylene Glycol) and VG (Vegetable Glycerine)
Straightforward Prices & No Hidden Costs
Smash wholesale e-juice & bulk flavour concentrates are available in 10ml, 30ml, 50ml, 100ml, 200ml, 500ml & 1 litre. Larger sizes of e-liquid and flavours, such as 2.5 litres, 5 litres, 10 litres & 25 litres, are also available.
The larger the size, the more you save!
The prices are listed below; they include the 10ml liquid content value, too:
| E-Liquid (0mg – No Nicotine) | E-Liquid (1mg to 24mg Nicotine) |
| --- | --- |
| 10ml – £1.99 (£1.99 per 10ml) | 10ml – £2.49 (£2.49 per 10ml) |
| 30ml – £3.99 (£1.33 per 10ml) | 30ml – £4.49 (£1.50 per 10ml) |
| 50ml – £5.99 (£1.20 per 10ml) | 50ml – £6.99 (£1.40 per 10ml) |
| 100ml – £9.99 (£1.00 per 10ml) | 100ml – £11.99 (£1.20 per 10ml) |
| 200ml – £17.99 (£0.90 per 10ml) | 200ml – £19.99 (£1.00 per 10ml) |
| 500ml – £27.99 (£0.56 per 10ml) | 500ml – £29.99 (£0.60 per 10ml) |
| 1 Litre – £44.99 (£0.45 per 10ml) | 1 Litre – £54.99 (£0.55 per 10ml) |
Flavour Concentrates
10ml – £1.99 (£1.99 per 10ml)
30ml – £4.99 (£1.66 per 10ml)
50ml – £7.49 (£1.50 per 10ml)
100ml – £12.99 (£1.30 per 10ml)
200ml – £22.99 (£1.15 per 10ml)
500ml – £49.99 to £40.00 (From £0.80 per 10ml)
1 Litre – £79.99 to £65.00 (From £0.65 per 10ml)
Our flavour concentrates have bulk buy discounts. The more 500ml or 1 litres you purchase in any flavour, the more you save. As low as £0.65 per 10ml!
Our wholesale scheme isn't exclusive to our bulk e-liquid and vape flavour concentrate range. We can provide you nicotine concentrates, nicotine shots, unflavoured bases, and empty bottles in any size and quantity.
I'm Sold. How Can I Place An Order?
Smash E-Liquid are straightforward and simple. We don't hassle you with wholesale forms, and we don't require you to have access to a wholesale account. These things take time and are tedious.
Simply use the search box, or click through the shop categories, pick your products, and checkout.
We have made the checkout process easy and swift. We use PayPal to securely and conveniently take payments. Credit cards and debit cards included.
Wholesale vape oil e liquid, bulk flavour concentrates, and all our other products are on demand. Running low on juice? Simply re-order by a click of the button on your account page.
There is no minimum order quantity (MOQ), so feel free to place your order.